Silent Night is a film that sets itself firmly apart from anything else that has come before it in the same genre combo. It makes itself a nice space on the shelf for an apocalyptic Christmas film. But, it isn't all bleak. The ensemble cast keeps at work throughout to make it a posh and hilarious experience. One that takes the gloves off of any sort of polite society and lets the truth out before the end brilliant end.
The setup for the end of the world caused by a deadly gas cloud circling the globe brings a family together to spend their last moments in the same house. It comes with all the trimmings you might expect. You know all those awkward dinners you spend with family and friends for the holidays? Well, imagine a situation where that would be the end of the world. What would you say when you know there won't be any consequences to adhere to.
The cast does a lovely bit throughout the film. They constantly bring the film to its hilarious highs as well as its catastrophic lows. It manages to hit notes of Love Actually and manages to combine that with apocalyptic dread.
The synopsis for Silent Night goes like this:
Nell and Simon have invited their closest friends to join their family for Christmas dinner at their idyllic home in the English countryside. As the group comes together, it feels like old times – but behind all of the laughter and merriment, something is not quite right. The world outside is facing impending doom, and no amount of gifts, games or Prosecco can make mankind's imminent destruction go away. Surviving the holidays just got a lot more complicated.
The entire cast is hilarious and beyond fantastic. Everyone involved really should win awards based on the levels of grey that they have to constantly navigate.
From start to finish Silent Night is a significant blast of hilarity and horrors. The cast is out of this world and manages to keep the entire film running throughout without any of the other plots devices. It could have just been a film about a Christmas get together and been just as great as it is once you throw in the end of the world bits. Silent Night is constantly a good time and one that will have breathless until its memorable ending.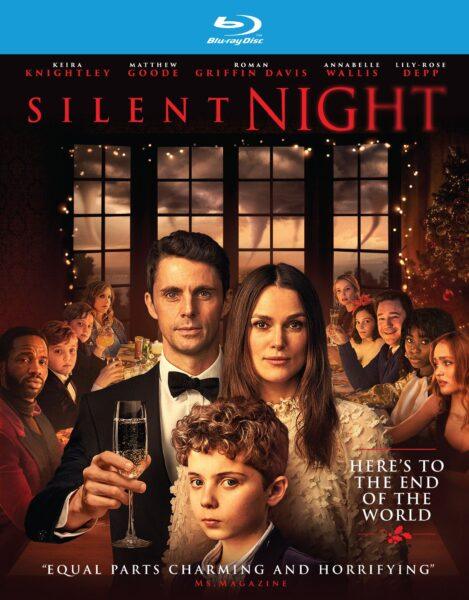 The all-star cast includes Matthew Goode, Roman Griffin Davis, Annabelle Wallis, Lily-Rose Depp, Ṣọpé Dìrísù, Kirby Howell-Baptiste, Lucy Punch, Rufus Jones, and Trudie Styler.
You can find Silent Night on blu-ray beginning March 8.
Bonus features on the DVD and Blu-ray include:
Deleted & Extended Scenes
Alternate Endings