There are an abundance of independent horror comedies that are produced on a micro budget. It might seem like an easy subgenre to tackle, but if you've seen a lot of these films, you'll know that it ain't easy to effectively pull off. Comedy and horror are two sides of the same coin, but it's difficult to work both angles. For horror-comedy anthology The Final Ride, writer/director Mike McMurran (Secret Santa) has created a script that pushes tales of horror while embracing a quirky comedic tone.
The Final Ride follows an Uber driver, Jean, as she picks up new fares throughout the night. Passengers come and go, but some have unique tales of their own that carry us out of her car and into their lives. We follow them home and bear witness to their horror stories.
A young couple buys their first home, finding a mysterious box of VHS tapes in the basement; two friends-on-a-bender stumble upon a tattoo parlor and find lasting repercussions; and Jean gets more than she bargained for with one of her passengers as they take what could be her final ride.
The performances are understated, but the humor is delivered with just the right tone to make the jokes land. Ry Barrett (The Heretics) seems to have the most fun he possibly can with his role as a jacked up workout tape instructor. His grimace-and-flex performance is peppered with casual comedic admissions that could fly under the radar, but they stick out just enough that they're easy to catch. It's a notable performance that really sells the whole segment.
Keegan Chambers (Age of the Living Dead) rises to the ranks of the final girls with her performance as Jean. She's sarcastic, resilient, and resourceful; it's easy to root for her as she hustles through the day. Jean is the classic spunky final girl and (pardon the pun) driving force between each segment. Even her wardrobe — which includes a battered white tank top — reflects the unofficial uniform of the final girl.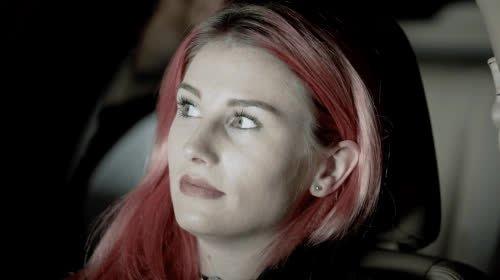 Practical effects are absolutely key when it comes to indie horror, and The Final Ride tosses blood and brain bits with a tinge of humble comedic honesty. It sells the scene and reminds you that you're really just there for a fun time. The budget may be modest, but it's clear that there's a lot of love and care put into the film.
With a brisk run time of 79 minutes, The Final Ride essentially combines three short films into one movie. The transitions between stories can sometimes stumble, but there's still a solid effort to tie the segments together with Jean's Uber passengers. The recurring montage of nightmare fares is a nice little palate cleanser between segments and helps to keep Jean in the headlights.
The Final Ride is a light, fun, cheeky horror-comedy that uses the anthology format as a vehicle to share three surefire crowd-pleasers. If you're looking for something new and under-the-radar, you'd be wise to give it a test drive.
The Final Ride will be released on digital on July 14 from Wild Eye Releasing.