Developed from a short film of the same name, Boys From County Hell reinvents the vampire lore with a rugged Irish lilt. Written and directed by Chris Baugh (Bad Day for the Cut), the film is born from the folklore of Abhartach, a legendary Irish vampire who — it's theorized — inspired Bram Stoker to write Dracula.
Boys From County Hell follows the strange events that unfold in a sleepy Irish town called Six Mile Hill. When construction on a new road disrupts the alleged grave of the local legend — an ancient vampire named Abhartach — deadly and sinister forces begin to terrorize the work crew, led by Francie Moffatt (Nigel O'Neill, The Bookshop) and his son Eugene (Jack Rowan, Peaky Blinders). The Moffats and their crew of workers must fight to survive the night while exposing the true horror that resides in the town's local myth.
Also starring Louisa Harland (Derry Girls), Fra Fee (Animals, the upcoming Hawkeye series), John Lynch (The Terror, The Banishing) and Michael Hough (the upcoming Chapelwaite series), the cast is relatable and believable as a group of regular folk who are in way over their heads (with no Van Helsing type to show them the ropes).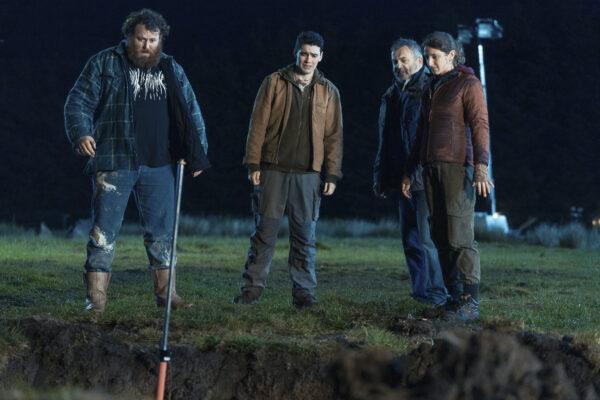 Our cast of characters are world-weary workers in a tiny town whose only claim to fame is that Bram Stoker once passed through (their local pub, named The Stoker, monopolizes on this fact), stealing his ideas from the mysterious cairn that supposedly houses an Irish vampire. When their construction work disturbs Abhartach's cairn, they approach the task of vampire hunting with the same "get 'er done" attitude they'd use to approach any other job. They're a practical lot, with rural sensibilities and a real salt-of-the-earth streak.
The cast are all excellent, particularly O'Neill as Francie, whose performance as a rough-around-the-edges, tougher-than-most, don't-take-shit kinda fella who doesn't believe in hugs is… surprisingly intimidating.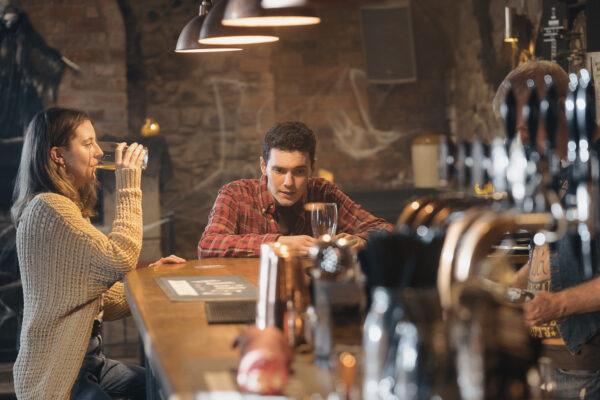 By using a different vampire lore, Baugh has the flexibility to do some really cool stuff. Abhartach's methodology for draining blood is visually dramatic and quite cinematic, and when it comes to dispatching the bloodthirsty undead, you can throw all that you know about vampires out the window. Mythology is one thing, but when confronted with a real monster, how are we supposed to know what would actually be effective? It's a great question that makes the stakes of the film that much higher.
There are, admittedly, a couple of moments that caught me off guard, which is always something I look for in horror. It's a surprisingly heartfelt film that takes itself seriously, with strong technical elements that complete the whole picture. I'll highlight the score by Steve Lynch (Let Us Prey), which builds the atmosphere with a curiously doom-laced charm.
Though Boys From County Hell is labeled as a horror comedy, it's perhaps marketed as being more comedic than it actually is. There's really only one scene I'd fit within that particular subgenre, and even then, the major cue is the music that's chosen. Other scenes have lighter moments, but they're not set so forward that I'd comfortably label it as a horror comedy. That being said, this isn't really a bad thing. The film is really about loss, family, and responsibility, and those mature messages would have been muddled if the tone was lighter.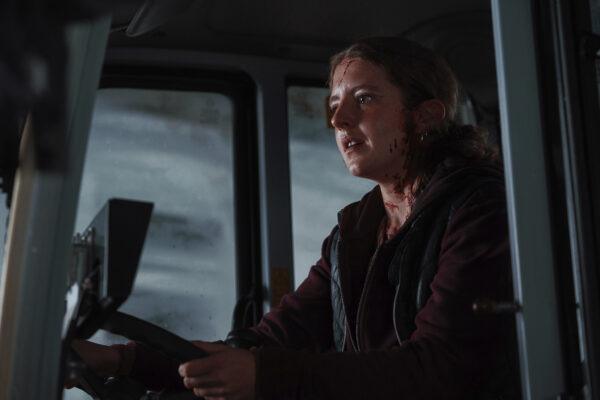 Ultimately, Boys From County Hell is about burying your problems and the dangers of becoming complacent. Each character is holding something back, or being held back by their own self-set limitations. Abhartach is a physical manifestation of these buried problems, crawling up from the grave, invincible, and it's only when the proper measures are taken that he can be put back to rest.
If you're looking for a rip-roaring horror comedy, Boys From County Hell might not be the side-splitter you're hoping for. But if you want a clever new take on vampire lore with hearty characters and a bit of a bite, go ahead and dig this one up.

Boys From County Hell will stream exclusively to Shudder on April 22nd in the US and Canada, as well as via the Shudder offering within the AMC+ bundle where available. For more Shudder content, click here to read our review of The Mortuary Collection.