Everyone is friends with 'that' couple. You know, the couple who are so in love that it hurts to be around them. They're so perfect that being close to them only highlights your own flaws. That kind of couple. In this case, this is the lovely duo of Tom (Joel McHale) and Janet (Kerry Bishé). They're on year 14 of their marriage and have somehow managed to maintain the peak of their affection after all these years. Be it happily cooking for each other, near instant reconciliations after fights, or having lots and lots of sex, both at home and everywhere they go. Even their friend's houses and at restaurants. They are utterly insatiable. It's enough to sicken their bougie L.A. pals who have different degrees of troubled relationships. Things take a turn for the bizarre when they're confronted by a mysterious agent named Goodman (Stephen Root) who insists their marital bliss is a problem. A problem that must be fixed by extraordinary measures. Leading to murder, cover ups, and deeper lies and secrets as Tom and Jane head to a couple's retreat with all their supposed friends…
Happily, the debut feature from writer/director BenDavid Grabinski (Are You Afraid of The Dark?) is an interesting and hilarious twist on a romcom that will keep you on the edge of your seat. There have already been comparisons to The Twilight Zone and Black Mirror and while accurate to an extent, the story plays out in such a grounded and comedic way, it's easy for the supernatural and fantastical aspects to be gleaned over. Since a lot of the story is prefaced on mysteries and reveals, I'll try to keep details to a minimum and to encourage going in as blind as possible.
This is first and foremost an ensemble movie, and we are treated to a wealth of quirky characters played by a talented and entertaining cast. Joel McHale and Kerry Bishé shine as Tom and Janet. They live out a relationship so ideal it's like a cross between a 1950's screwball comedy and a Cronenberg movie minus the tragedy/body-horror. Their marriage is like a living uncanny valley that upsets and infuriates their friends. But be it managing work, getting ready for social gatherings, or covering up a murder, the duo fully support each other a hundred percent. And as things escalate, this perfect marriage is put to the test by tensions both internal and external.
Once the couple get to the fancy and high-tech retreat house with their friends, it becomes an intriguing conflict of personalities and strenuous relationships and friendships. With a group including Natalie Zea, Paul Scheer, Jon Daly, Natalie Morales, and more creating a simultaneously tense but sardonic atmosphere while Tom and Janet try to sort everything out and make sense of things. As well, the soundtrack mix is masterfully selected and make for some memorable musical scenes. Particularly a few that are rooted in some genre classics such as The Lost Boys 'I Still Believe', sax and all.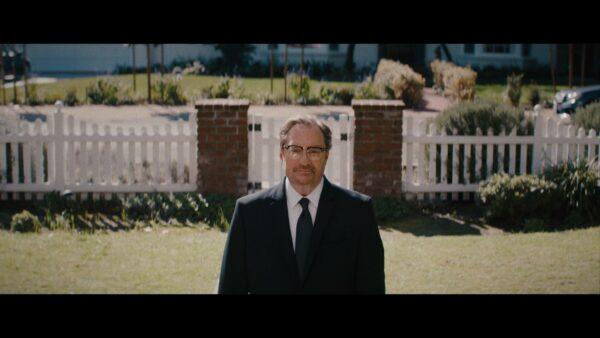 On that end, the conspiratorial elements of Happily could be hit or miss for some. Played more subtle than expected but weaved almost seamlessly into the the ensemble side of the plot. Stephen Root also shines as the mysterious Goodman. Affable but with a determination to him that makes it clear there's a lot more to him than the surface. The pacing can feel a bit disjointed jumping between these different plot lines of murder and dysfunction, but it also helps add to the jarring secrets hanging overhead. Your mileage may vary on the payoff, and I'd prefer not to get into it, but it's still a cool journey getting there.
With great leads and an excellent ensemble cast that will keep you hooked on every line of dialogue, Happily is an entertaining genre mash-up and one you will be happy with.

Happily will be released in Theaters, On Digital & On Demand March 19th, 2021