The world of interactive horror experiences keep on getting better and better. Even during last year, when folks were using pure ingenuity to come up with ways to socially distance and keep spooky. A lot of drive through and drive in, horror experiences popped up to save the day. Well, that train of interactive spooks keeps on rolling with the terrifying Escape Blair Witch experience.
It turns out that early rumors ended up being true and quite rad! The rumor (at the time) was that Lionsgate was going to install a Blair Witch escape experience similar to the one that Lionsgate created for the Saw's escape. Well, rumor no more. It turns out that Egan Escape Productions is going to drive everyone mad from frights with the help of the sinister Blair Witch.
Guests will arrive at a recreation of Burkittsville, Maryland in order to investigate missing college students. Once you arrive, you and your group will have to solve clues and gather information in order to proceed. Once you are able to move forward, you must traverse a built from the ground up recreation of the Black Hills Forest. Eventually, you find yourself in the Witch's house. At this point the goal goes from investigation to escape and get the hell out of there.
The official synopsis for Escape Blair Witch provided goes like this:
Escape Blair Witch is an immersive, multi-room escape experience that brings to life Lionsgate's iconic blockbuster film franchise, Blair Witch. Players begin their journey at the Burkittsville Ranger's Station, nestled in the Black Hills Forest, on a hunt for information into the disappearance of a few local college students. Do you believe in the stories about the Blair Witch? Was there an accident in the woods or did something far more sinister take place?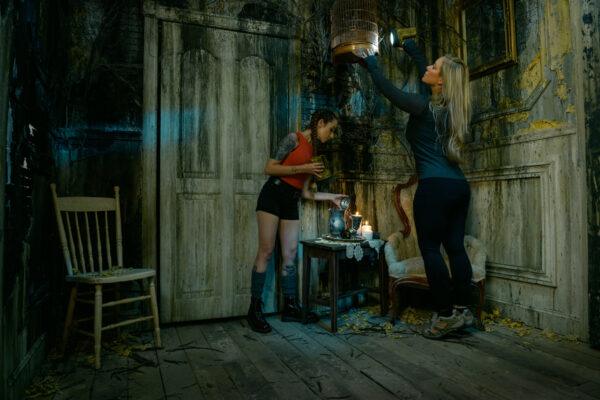 The whole spooky shindig is set to go off in early Summer 2021 in Las Vegas. Since COVID-19 still sucks and is still around being a proper jerk, tickets are limited and precautions are in place. In order to grab your tickets and find all the info that you need, head over to escapeblairwitch.com.