The trailer for season three of Shudder's Creepshow is all sorts of unexpected. Among the green glowy-eyed demons and the cool practical FX monsters, there is… a Phantasm ball in the midst of all the action. Oh, and some very cool Ray Harryhausen miniature skeleton work at the end of the trailer.
Everything looks really cool, and I'm not going to lie this season looks like it might be the best one yet. Last season, had a wild episode that featured Ted Raimi and the Necronomicon and even Deadites. It's interesting that they are bringing those films into Creepshow's official cannon.
Season 2 of Creepshow was definitely better than season 1. So, we are hoping this outdoes season 2. My biggest grip with Creepshow is that it just isn't long enough. I really wish these were hour long episodes or that the season was 12 episodes long. It's just not enough as is.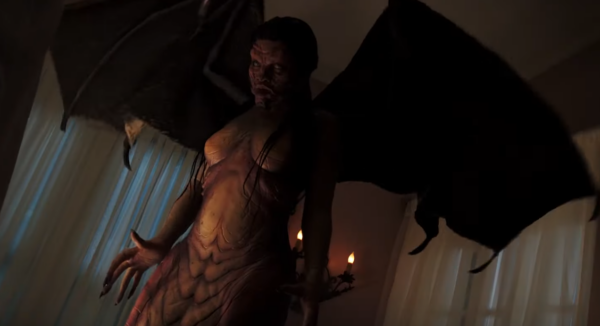 This season's episodes of Creepshow breakdown like this:
– Mums," directed by Rusty Cundieff and adapted by Nicotero from Joe Hill's short story
– "Meter Reader," which Nicotero has said will reference The Exorcist
– "The Last Subaraya," about an art dealer who unleashes a demonic presence from a rare painting
– "Queen Bee," about a pop star who is possessed by aliens
– "Drug Traffic," which stars Michael Rooker as a cop investigating a strange series of killings
Count us in. Creepshow Season 3 drops onto Shudder beginning Sept. 23.
Are you a fan of Creepshow the series? Let us know in the comments section.